Added Time: Our Monthly College Search Newsletter
August Update: Social Media and Recruiting
This month, Instagram helped me understand how much the intersection of FOMO, kids, social media and recruiting has become a source of anxiety and misinformation! My favorite story was when the mother of a talented athlete came home from an event and called me - absolutely frantic, "we need to be messaging these coaches on Instagram, they're all over it and these parents I'm talking to are getting lots of responses." It took several minutes for her to stop and take a breath, giving me the opportunity to ask, "okay, but your son has a zoom chat with Harvard scheduled 48 hours from now, what do you want him to say?" This was a student-athlete being actively recruited, texting/emailing coaches, going on visits… mom got caught up listening to the folks in the stands and was REALLY stressed.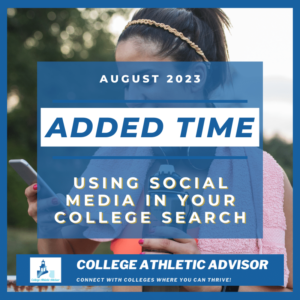 So… what do you need to know? First of all, some brilliant advice from an old coach, "if you listen to the folks in the stands all the time, you'll end up sitting next to them." It is hard to sit at an event/tournament and listen to other people talk up various recruiting strategies, talk about all the "full rides" they have, etc. And all I can tell you is your journey is yours. There is no way to know who's being really honest, what they know (how do you know REALLY how an opportunity came up or why you got a job? It is no different in recruiting), or how that might apply to you. You also can not really screw yourself up unless you just do nothing and trust someone else to do all the work. Ultimately, however you reach out to coaches, if you find the right fit, they will reach back!
That's a long way to talking about social media… Twitter (do we call it "X" now?), Instagram, TikTok, whatever. Let's start with some basics:
Do NOT start a social media account strictly for recruiting unless it will be your main account and you will enjoy being on it often!
If you already have accounts, use them to tell your story. There is no rule that you can't share tough times, setbacks, and frustrations… but remember this is YOUR story – make sure the arc of the story is about how you work to overcome obstacles and ultimately the joy and challenge and growth you experience on the journey. When in doubt, leave it out – send a text or call a friend. The bigger/stronger/more valuable community you build, the more your NIL (Name/Image/Likeness) value is!

Parents absolutely have a role monitoring social media and protecting their children. BUT, there is NO recruiting or NIL value in a parent run account. Coaches want to get to know prospective student-athletes. If you do not want your child on social media, just don't do it.

You do not NEED a social media account to get recruited. Literally EVERY college coach has an email account – and THAT is how his/her boss is going to reach them. They check it and respond, or they get fired. If they ignore YOU, it's not because they don't check their email.
Reaching out with a short email that includes links to video (preferably your YouTube channel, but Hudl or whatever else is find as long as it works) and a resume (in pdf format) and has a subject line that makes coaches want to click on it is still the gold standard. You are not going to get a letter of intent via Twitter DM.
From a recruiting standpoint, you do not need to mess with social media until you are in high school, but if you have an account that you are using before that – no problem. Just make sure you like what is on there!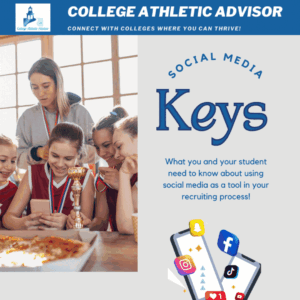 The great Dean Smith once said about coaching, "the only way to do this job is to leave some parts of it undone." Managing your college search and recruiting process is kind of the same way: you do not have time to do everything – pick your lane and make THAT work. There are way more important things in recruiting than Twitter. Things like improving your performance through training, competing at events where college coaches can see you, and making sure your academic profile is a fit for the schools you aspire to attend are going to be FAR more impactful than something you upload from your phone. Winners focus, losers spray – if social media is part of your focus, then enjoy it, if not… make every day your masterpiece and do not worry about the random folks on the sideline.
As always, if you are interested in learning more about individualized or institutional consulting to elevate your college search, check out our services here! You can make an initial appointment through the link on our homepage! School administrators and counselors access our free resources, appointments and programs for school collaboration here.
For more information, contact Dave Morris, College Counselor & CEO, College Athletic Advisor, [email protected] or phone: (719) 248-7994
©2023 All Rights Reserved https://collegeathleticadvisor.com/addedtime/
---
July Update: Walking On
Sometimes, you do not want to go to college where you are recruited. You want to go to the college you want to go to. Even if their athletic program is not interested in you. This is 100% your choice, and at College Athletic Advisor, we support you! But what if you still really DO want to play your sport? Can you just show up and be on the team or tryout? The truth is the answer varies by sport and program.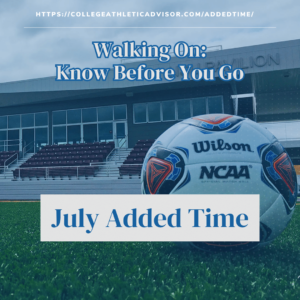 To begin, it helps to remember the official NCAA definition of "walk-on." You are a walk-on if you are a student-athlete not receiving athletically related financial aid. That means if you are a D3 student-athlete, no matter how much the coach recruited you, the NCAA defines you as a "walk-on." It also means that there are LOTS of student-athletes who are relatively heavily recruited but are considered "walk-ons" by the NCAA.
Getting back on track, this means that not all walk-ons are created equal. If you are RECRUITED to walk-on, you have a spot in the program (subject to whatever promises the coach did or did not make), you just are not getting scholarship money. There are instances when coaches recruit students to walk-on with promises of a scholarship in the future. Generally, it is my advice to view promises like that VERY skeptically (in other words, make your decision to attend based on whether you are willing to NOT have a scholarship for four years).
If you are NOT recruited and want to walk-on, make sure you will be happy at that school if you are not playing. Many programs have pro forma "walk-on tryouts" where you can come, often mid-season, to a "try out" and then be cut with nearly 100% certainty. One big "tell" if you are going to be seriously included is whether the coach invites you to preseason. That means that the coach is committing at least a small amount of money to supporting your participation. The money is not the point, but coaches do not spend money for nothing.
At many schools, competitive club sports play not only on campus, but travel and compete against other schools. ACHA hockey is an amazing example of highly organized club sport on campus! Many of THESE programs ALSO have tryouts and it is important to connect with student leaders or coaches as soon as possible to make sure you get the information you need to participate. Also, since these programs are not supported through the athletic department, there can be additional fees/costs associated with participation. However you choose to pursue your passion, there IS a fit for you on campus!
online course guides you to create the keys to a successful college search!
You'll get
an academic/athletic resume
impactful highlight video & a video channel that allows coaches to evaluate you in depth
an introductory email that gets opened and gives you the opportunity to connect with college coaches
I would like deeper insights into all this... can we talk?
Of course!! Schedule an initial consult, email; or call (719) 248-7994 and let's discuss how we can collaborate!