Added Time: Our Monthly College Search Newsletter
March Update: Connect Don't Guess!
The winter season is wrapping up with high school state championships and the transition to spring sports across the United States. This also marks the start of spring "guessing season" where both fans and college bound student-athletes try to predict roster needs for their own teams and college programs heading into next season. As an experienced coach, all I can say about this is "KNOCK IT OFF!" There are far too many unknowns and predicting the future is mostly a fool's errand. Think about how you thought your own team's roster was going to evolve at this time last year and how wrong you were. You are not going to be more accurate this year – and you know a LOT more about your own team than you do about a college program you aspire to playing for.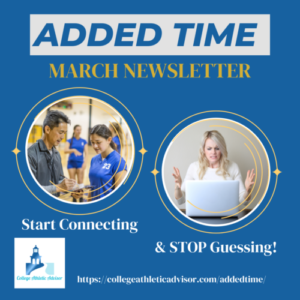 When I think of the most useless things that people do in the recruiting process, stalking a college team's online roster page (or results page in track or swimming) has to be near the top of the list. Serious recruiting "experts" talk about looking to see if there are "openings" at your position and I have a hard time thinking of something less useful you could do. You can NOT predict where a coach feels they need to focus their recruiting based on their internet roster. Here is what you don't know:
Who is coming or going in the transfer portal
The positions that a student-athlete ACTUALLY played vs. what they wrote down on a form in August (which is how those things get on the internet most places)
The coach's plans to move a player to a different spot on the field (for instance in soccer it is relatively common for a player to move from the wings to a central position as they get more experienced)
Who else a coach is bringing in and how they see that player fitting into their roster
The dynamics once you get the whole team together for the new season
How much better a coach wants the recruits to be compared to their current roster
Smart coaches try very hard to keep an open mind and think about how they will ultimately put the most effective group onto the field or court, just because you got recruited as a winger or whatever doesn't mean that is where you are going to play in college. To a coach (and hopefully to you) there are basically two positions: in the game and on the bench. Also, coaches do not recruit to replace individual production, they recruit to elevate the program. That means you are NOT a perfect fit recruit just because you are running the same times as one of the runners on a college's current roster. I watch folks look at these websites and make all kinds of guesses and wonder why they bother. Why not just ASK THE COACH??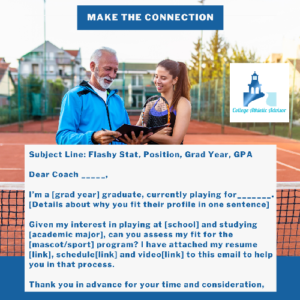 Ultimately, the decision about whether you are a recruit at a current school is 100% up to that school's coaching staff. So… why are you guessing or asking someone who is NOT that person. Emails are free. ASK THEM! IT'S THEIR JOB TO RESPOND TO YOU IF YOU ARE A FIT!! Let them do their jobs!! Sorry I'm screaming, but… ugh!!!!!
Your job as a college bound student-athlete is to identify the institutions that are your best fit! There is little benefit to guessing when you can get a definitive answer! Create a "balanced" list of colleges that you feel could be a great fit athletically, academically, and socially! Once you assess the feedback you receive you can adjust your target schools (or your training/academics/schedule) accordingly to reach your goals! What makes College Athletic Advisor unique is our focus on your development rather than marketing a human being as a static product.
As always, if you are interested in learning more about individualized or institutional consulting to elevate your college search, check out our services here! You can make an initial appointment through the link on our homepage! School administrators and counselors access our free resources, appointments and programs for school collaboration here.
For more information, contact Dave Morris, College Counselor & CEO, College Athletic Advisor, [email protected] or phone: (719) 248-7994
©2023 All Rights Reserved https://collegeathleticadvisor.com/addedtime/
---
February Update: Optimizing Your College Visits
Hopefully one key moment in your college search is an invitation to visit campus. Visits are premium level introductions to college campuses: meeting coaches, prospective teammates, and getting to know the opportunities that college and intercollegiate athletics can offer. They are often highly individualized, incorporating staff, faculty and current students, and are one of the most important benefits a prospective student can receive. Compared to the cattle calls of admissions tours, these provide a much deeper understanding of the institution, your potential fit, and the collegiate experience. For some elite athletes, these visits are more than this, a study in excess well chronicled in the The Athletic's deep dive into Texas Longhorn football's visit weekends, complete with itinerary, interviews and some mind-blowing budget numbers. But even at the D3 level, an unofficial visit with coaches, players and often faculty in your prospective major can be incredibly valuable in your search!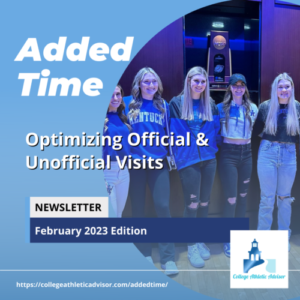 For high school students, planning for a visit can also be intimidating, but a little planning can help you plan productively rather than in fear of the unknown! The first thing I like to point out is that you are meeting with coaches who spend their days talking to prospective students just like you. They are good at it, and you will be surprised how easy most are to talk to when they want to be… they get a lot of practice!  My other piece of advice is "dress for success," in other words, you want to be comfortable but neat. This is not the time to break out the pajama bottoms but bring activewear. You never know when you might get an opportunity to play your sport on a visit and it is a great way break the ice and meet potential teammates… be prepared!
In that spirit, you also need to mentally prepare to meet new people and see a new place. It helps to have done a little bit of advance planning to make the most of the experience:
Remember you are evaluating them as much as they are evaluating you. Think about what you want in an experience and ask about those things! A few areas you might want to explore:Coaching style, program values, and goals.

Is there an area of emphasis in terms of building the program this season? (it's a better way to find out where the coach thinks they need to grow than asking "what's your weakness?")
What would a dream season look like to you?
How does the coach view the team's culture and how the team gets along (then ask the players about what it's like to be on the team… look at body language as much as listening to answers – you'll get a feel).
Academic support? Does the coach try and limit your choice of major (there are some coaches doing this, find out before you arrive and choose wisely)?
Travel and logistics (I coached at a school that had a 15-hour bus ride every year, it was awful, but no recruit ever asked about it). This is especially important if your training facility is not right on campus!
What's it like to be an athlete at this college/university?

Think about what you want the coach and possible future teammates to know about you. Make sure you tell them, regardless of the quality of their questions. Also enjoy being on a visit and get to know the other athletes! Find out what their social life is like and how you "fit" with them. What do they do when they are NOT playing? Do they do it together?
Unless you're going to visit more than one college on the trip, write your impressions down on the trip home after you've left campus.
Keep your phone in your pocket, be present with the people you are meeting!
Coaches want to meet YOU, the prospective student. There is a time for parents to ask questions, but it is critical to let the student lead. Even if that means there is some quiet time… you will get there!
Have fun!! You are trying out a possible future… enjoy!
online course guides you to create the keys to a successful college search!
You'll get
an academic/athletic resume
impactful highlight video & a video channel that allows coaches to evaluate you in depth
an introductory email that gets opened and gives you the opportunity to connect with college coaches
I would like deeper insights into all this... can we talk?
Of course!! Schedule an initial consult, email; or call (719) 248-7994 and let's discuss how we can collaborate!