Find Your College Fit Assessment
Are you a high school athlete looking for a scholarship to college?
A transfer student looking to find your dream university?
Do you need a great fit to continue your sports career and education? A scholarship that makes graduation possible?
Our tool helps you identify college programs that FIT and FUND you!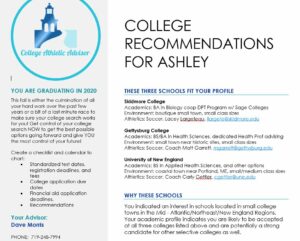 Download this pdf at https://collegeathleticadvisor.com/wp-content/uploads/2020/03/College-Search-Booklet-Condensed.pdf
Get Your Best College Fit Today!
The button below will take you directly to our "Find Your College Fit Assessment Tool. It will take you 10-15 minutes to complete. Once you have completed the assessment, your personalized response, created by one of our expert advisors, (like the one on the left) will be in your email inbox within 48 hours.
College coaches are most likely to respond to athletes whom they see as having interest in their college and not just generalized desire to play a sport. This tool provides you not only contact information and a direct line to them, but a piece you can reference in communicating your fit not just for their program or an athletic scholarship, but their institution!
Please feel free to reach out using the contact information at the bottom of this page if you have questions as you go through the assessment! Remember the assessment is meant as a rough guide to allow us a window into your priorities and preferences, so there are no wrong answers and your first instinct is what is most useful.
Is your academic plan setting you up for success? Are you on track signing up for standardized testing? Have you thought about mentors who can provide powerful recommendations on your behalf? Are you thinking about emailing coaches, creating a highlight video, or signing up for the NCAA Clearinghouse?